Dr. Bill Rawls' Holistic Gut Health Protocol
Calm and soothe the lining of your gut, offering relief from occasional gas and bloating.*
Balance and nourish your gut microbiome. *
Activate your digestive system. *
Purify your GI tract through natural detoxification.*
Nourish your body to promote optimal absorption.*
Save 10% + FREE US Shipping with SUBSCRIBE & SAVE
Subscribe & Save (S&S) Autoship
Save 10% on all recurring orders
FREE US Shipping
Never run out of your supplements
Get email reminders before each delivery
Modify or cancel at any time
Calm and soothe the lining of your gut, offering relief from occasional gas and bloating.*
Balance and nourish your gut microbiome. *
Activate your digestive system. *
Purify your GI tract through natural detoxification.*
Nourish your body to promote optimal absorption.*
Meet Dr. Rawls: A Physician Who Learned to Go with His Gut
As a card-carrying member of the fast-food generation, I'm no stranger to digestive health issues.
I grew up eating toaster waffles and breakfast cereal by the boxful; my uncle was a founder of a big fast-food burger chain—eating a hamburger and fries and washing it all down with soda was a rite of passage.
By age 40, as an OB-GYN working long hours and regular night shifts, my vending machine diet, constant stress, and late nights finally caught up with me.
Only then did I wake up to the role I was playing in my own misery.
I knew my eating habits weren't healthy, but through research, I realized the extent to which our modern-day diets are not designed to support a healthy gut. Basically, the excess carbohydrates and processed foods we're all so fond of wreak havoc on our digestive systems.
The reason: Our GI tract is still configured to thrive on an ancient, foraged diet that consisted mostly of herbs, roots, tubers, leaves, mushrooms, wild fruit, bark, bird and reptile eggs, and some game.
With this new understanding, I switched to a more plant-based diet and started incorporating more of the herbs that were such a vital part of our ancestors' diet. By offering my body the natural foods and beneficial plant chemicals it was designed to rely on, I was able to rewrite my gut health story.
Today, the extra pounds are long gone, and my gas, bloating, and irregularity are an old memory.
Interestingly, targeting my gut health gave me a foundation to help me achieve my other health goals, too. Which makes sense when you consider that the digestive system is intricately connected to all of our health systems.
That was a life-changer for me, and what ultimately led me to develop the Gut Revival Kit. It includes all of the gut-supporting herbs and natural ingredients that were so impactful for me, plus I've included an extensive diet plan and educational guide to enhance and accelerate your results.
The Gut Revival Kit is the culmination of my years of searching for ways to support my gut health. The best part is, I've found it can help others with similar issues.
You don't have to accept digestive distress. Quite the contrary: It's a sign that your gut and overall health require some attention and support. Remember: If you take care of your gut, it will take care of you.
How the Gut Revival Kit Works
About the Products in the Gut Revival Kit
Each product in this robust kit was formulated to help reawaken a healthy gut by nourishing your digestive system, soothing and supporting the intestinal lining, balancing the microflora, and promoting nutrient absorption. The Gut Revival Kit includes optimal servings of well-studied ingredients that are often at too-low levels in other brands to offer the most favorable results.
Inside the Gut Revival Kit
Complete Regimen
Four holistic products specifically formulated to work in synergy for total gut support*
Diet Guide + Cookbook
A three-phase diet with recipes, grocery lists, meal plans, and more to further promote healthy digestion.
6-Week Email Series
A unique diet and lifestyle program that helps accelerate your results.
Ongoing Support
Program and product support every step of the way from the dedicated Vital Plan team.
Suggested Use
Three times a day, take 1-2 dropperfuls of Revival Bitters, 1-2 capsules of Active Enzymes, 10 tablets of Pure Chlorella, and 2 capsules of Gut Balance with food or as directed by your healthcare provider. Each bottle contains a 30-day supply when taken at the recommended serving size.
Ingredients
This product is also free from: Fish/Shellfish, BSE/TSE, Artificial Color & Flavor
4 Holistic Formulas – Developed & Used by Dr. Bill Rawls
FAQ
IS THIS KIT RIGHT FOR ME?
How do I know if the Gut Revival Kit is right for me?
If you are experiencing occasional digestive issues, or if you want to adopt better digestive health habits, the Gut Revival Kit offers a wide range of support for digestive function.
What makes the Gut Revival Kit different?
It's a unique collection of products designed to address all aspects of gut function. It's also combined with a diet and lifestyle course that were designed specifically to support gut function, making this a truly holistic approach. It was created by Dr. Bill Rawls, who experienced gut challenges firsthand and who has also helped many patients in his practice with these issues over the years.
I'm taking a probiotic. Why isn't that enough?
The balance of bacteria within your GI tract is as unique to you as your fingerprint. So, while probiotic supplements provide "good" gut flora, there is no guarantee they will establish the right balance for your body. The ingredients in the Gut Revival Kit do a good job of maintaining balance in the microbiome and often negate the need for a probiotic.
I've already tried a lot of other things. Will this actually work?
The Gut Revival Kit provides a wide array of support for digestive function and maintaining a healthy gut using well-studied ingredients. Those key elements include: supplementing essential enzymes to support normal digestion; stimulating gut motility and secretion of digestive juices; supporting normal bile flow and liver function; and supporting the microbiome and protective mucous barrier in the gut. When coupled with The Vital Plan Diet, which was designed to allow for easy digestion and optimal balance of the gut microbiome, the results can be remarkable.
I don't like bitter food. Can I skip the Revival Bitters? Will I be able to taste them?
If bitter isn't your favorite flavor, you're not alone. Revival Bitters provides a bitter taste and will connect you with your ancient food heritage. The more you use them and experience their beneficial effects on digestion, the more you will appreciate the important place bitters have had in the human diet throughout history. This flavor plays an important role in digestion, triggering saliva and digestive enzymes, and our formula includes a small amount of pure maple syrup to help ease you into the taste. If desired, dilute in an ounce of water.
Why isn't a probiotic supplement included in the Gut Revival Kit?
While some experts recommend regularly taking general probiotic supplements, their effectiveness is not well established in the scientific literature and can sometimes make the situation worse.
A general probiotic may provide benefit in some scenarios; however, current research suggests probiotics may be best used for a limited time and using specific strains based on the user's situation. In general, we find herbal preparations are more effective for most people.
The prebiotics and probiotics found in the Vital Plan Diet foods, along with berberine and other ingredients in the Gut Revival formulations, provide ample support for balancing the microbiome.
I am also interested in starting the Restore Kit. Is it OK to do both simultaneously?
The formulations and principles of the Gut Revival Kit and Restore Kit are compatible. However, if gut dysfunction is your primary concern, we recommend first focusing on the Gut Revival Kit. Fortifying your gut health will help speed your progress once you begin the Restore Kit.
FOR BEST USE
What is the recommended serving plan for the Gut Revival Kit?
We generally recommend taking each product 3 times a day with meals at the following amounts per meal: 1-2 dropperfuls of Revival Bitters, 1-2 capsules of Active Enzymes, 2 capsules of Gut Balance, and 10 tablets of Pure Chlorella. This is one simple way to achieve the recommended daily serving for each product, but it may be modified as needed or directed by your health care provider.
Can I mix the ingredients into a smoothie or other drink?
Active Enzymes can be put in a smoothie or drink. Revival Bitters may be added to a small amount of water to dilute them, but not to a drink that will mask the flavor since tasting the bitter flavor is what stimulates digestion. Gut Balance and Pure Chlorella should be left intact and swallowed with water.
How important is it to adhere to the diet and lifestyle guidelines?
Health and wellness start in the kitchen. The Gut Revival Kit is formulated to be used in combination with a diet like the one we provide for you — one that is high in vegetables and low in processed foods and added sugars. For best results, use your kit with The Vital Plan Diet and recipes, as well as the lifestyle guidance found in the email course.
WHAT TO EXPECT
How long will it take for me to start feeling results?
Depending on the degree of your starting situation and how closely you adhere to the program, you should start noticing a difference in 2-3 weeks. Most people experience significant improvement within 3 months, but some people will have to stick with it longer and be more vigilant.
How will I know when I am ready to stop taking the Gut Revival Kit?
You'll receive Gut Check surveys as part of the educational email series to help you track improvements and determine when you have reached your desired level of gut health. When you are ready to move on to the next steps, we'll provide guidance on other kits or maintenance plans to support your gut health moving forward. Note: The Gut Check surveys are not meant to replace your medical provider and should not be considered medical advice.
Once I'm feeling better, is there a maintenance plan?
Once you reach your desired level of gut health, we recommend continuing Revival Bitters and Pure Chlorella as a daily maintenance plan, and adding Active Enzymes and Gut Balance as needed.
PRODUCT FACTS
I'm vegetarian/vegan. Can I use the Gut Revival Kit and follow the accompanying meal plan?
Yes. All four products are free from animal ingredients and animal derivatives. Also, vegetarian and vegans will be able to follow the diet plan.
Is the Gut Revival Kit gluten-free?
Yes.
Are these products free of animal derivatives?
Yes.
SAFETY AND QUALITY
How do I know Vital Plan products are safe?
Our extensive quality-control measures are documented on this website. Each of our products comes with an independent certificate of analysis verifying the ingredient identity, purity, and standardized constituents, where applicable. This includes testing for heavy metals, organic toxins, and microbiological contaminants.
We work closely with only select manufacturing partners who follow the highest GMP (Good Manufacturing Processes) guidelines, and each batch of products is tested thoroughly during the manufacturing process. We are passionate about quality, and we would never offer anything to the public that we would not take ourselves.
What if I am taking prescription medications?
Herbs and drugs work very differently. That being said, because some of the ingredients in the Gut Revival Kit could affect absorption of certain drugs, we recommend you check with your healthcare provider before using the products in this kit. If you are taking a blood thinner such as Warfarin, check with your doctor before taking Pure Chlorella; vitamin K is known to affect blood clotting.
Is the Gut Revival Kit safe for pregnant and nursing women?
Do not use this product while pregnant or breastfeeding except under the supervision of a qualified healthcare practitioner.
Does this kit have side effects?
The potential for side effects and undesired effects with any of the ingredients in the Gut Revival Kit is low, but allergic or adverse reactions can occur with any substances, even common foods. The most common side effect would be stomach upset. If you have any significant side effects, stop use and contact your health care practitioner.
Reviews
Customer Reviews
Write a Review
Ask a Question
07/25/2020
Robert R.
United States
I recommend this product
Already seeing improvement
After a few weeks of use I'm already seeing improvement. The accompanying information is also very helpful. It's obvious that caring time and effort have put into this program.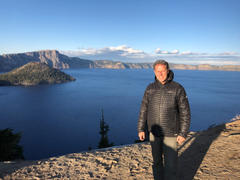 Hi Robert! Wow- amazing view- thanks so much for sharing that pic and for your thoughtful review. We are so happy to hear that you are seeing some improvements-keep it up-- please reach out if we can be of any assistance.
07/20/2020
Terry S.
United States
I recommend this product
I finally found relief ..... I have suffered the last 15 years with stomach bloat , along with other gut related issues. But since I've started this product, I have been feeling wonderful... I'm not going to lie it was tough the first couple of weeks, with the change of foods , but so far its been well worth it!
Hi Terry! Great news!! Thanks so much for sharing- be proud of yourself as you did the work- it takes discipline for sure -but so happy to hear you are getting the rewards! Reach out if we can be of any assistance.
07/04/2020
Heather D.
United States
I recommend this product
Excellent product!
Excellent product! Many of my [discomforts]are gone or significantly reduced. I do use this in conjunction with the Restore Kit and Biome Boost. First relief I have had since latest... activation.
07/02/2020
Judith W.
United States
I recommend this product
Definite relief
It definitely relieved the [discomfort] from gut issues I was having. Still using all 4 supplements
04/17/2020
Chantal E.
United States
I recommend this product
Seeing improvement
I am start slowly, but I am seeing improvement. This didn't happen over night and it will take time to heal my body and mind. Slow changes will bring new health.
---