Dr. Bill Rawls' Immune & Vitality Protocol
Supports immune function*
Supports brain, heart, and liver health*
Improves stamina and increases physical tolerance to stress*
Promotes healthy joints, skin, eyes, and cellular function*
Promotes a balanced microbiome*
Save 10% + FREE US Shipping with SUBSCRIBE & SAVE
Subscribe & Save (S&S) Autoship
Save 10% on all recurring orders
FREE US Shipping
Never run out of your supplements
Get email reminders before each delivery
Modify or cancel at any time
Supports immune function*
Supports brain, heart, and liver health*
Improves stamina and increases physical tolerance to stress*
Promotes healthy joints, skin, eyes, and cellular function*
Promotes a balanced microbiome*
Your Herbal Assurance for Immunity and Vitality
Your immune system is always on alert for threats encountered during the natural aging process and exposure to modern-day stress factors such as environmental toxins, emotional stress, poor diet, an imbalanced microbiome, and lack of exercise.
The Daily Immunity Kit was designed for modern times to offer additional immune-system support when you need extra peace of mind.
The four formulations in the Daily Immunity Kit are perfect for people who want immune support above and beyond the daily maintenance provided in the Daily Vitality Kit™, such as during stressful episodes of life, seasonal changes, or periods of frequent travel. They're also ideal for people transitioning from the Restore Kit™ who are looking to keep their immune system humming and microbiome balanced.
The Daily Immunity Kit is Phase 2 of Vital Plan's Core Wellness System. It borrows key products from the Restore Kit for ongoing immune support, and combines it with the Vitality Kit formulations to promote lasting, total-body wellness.
Ultimately, anyone seeking the essential elements for everyday vitality plus extra insurance for healthy immune function will appreciate what the Daily Immunity Kit offers.
The Story Behind Dr. Rawls' Daily Immunity Kit
Your immune system has a big job. It's responsible for removing old cells, repairing tissues and cell structures (including DNA) damaged by free radicals, purging toxins, and communicating important messages throughout the body. It's also constantly confronting potentially threatening microbes of every variety.
A healthy immune system is an essential component of wellness. But it doesn't work alone.
The immune system acts in concert with all the systems of the body — cardiovascular, hormonal, neurological, digestive, and more — keep you well. It's a highly complex, multi-step process, so supporting just one step of that process won't get you very far.
Instead, maintaining the integrity of the entire immune system requires a holistic, thoughtful approach. That's what I had in mind when I designed the Daily Immunity Kit. I wanted it to fulfill a need I see in people every day: The desire for an added level of immune support that promotes healthy function in all of the body's systems.
Many of you have shared with me that things like nonstop stress, poor diet, and exposure to pesticides, plastics, and other toxins have you concerned that you're not doing enough for your immune system.
Others of you have been giving your immune system advanced support for some time with the Restore Kit and are feeling ready to level down your approach — but you worry about losing ground and don't know the next best steps.
And all of you want to be sure you're giving your body the essential elements it needs to live your healthiest possible life.
If this message resonates, the Daily Immunity Kit was made for you. I designed it to include two key formulations from the Restore Kit: Adaptogen Recovery, with immune-modulating adaptogens that help promote immune function, and Advanced Biotic, which works to maintain a healthy balance in the microbiome.
It also includes both formulations from the Daily Vitality Kit: Daily Herbal brings energizing herbal adaptogens to the table for added vitality support and to promote healthy joint and cognitive function. And Daily Multi Plus offers phytochemicals, antioxidant support, and activated vitamins and minerals that work synergistically to deliver total-system support.*
Wellness is a lifelong journey, and it's full of peaks and valleys — I've been through a fair share of those valleys myself. But along the way, I discovered the herbs and other key ingredients that helped me get back on and stay the course. I'm excited to share the lessons I learned in the form of the Daily Immunity Kit.
How the Daily Immunity Kit Works
Inside the Daily Immunity Kit
4 Holistic Formulas
A complete regimen, developed by Dr. Bill Rawls, specifically formulated for daily immune support and vitality*
5-Part Email Series
A handy e-series with helpful tips and information to support the 5 elements of wellness and provide a foundation for your wellness journey.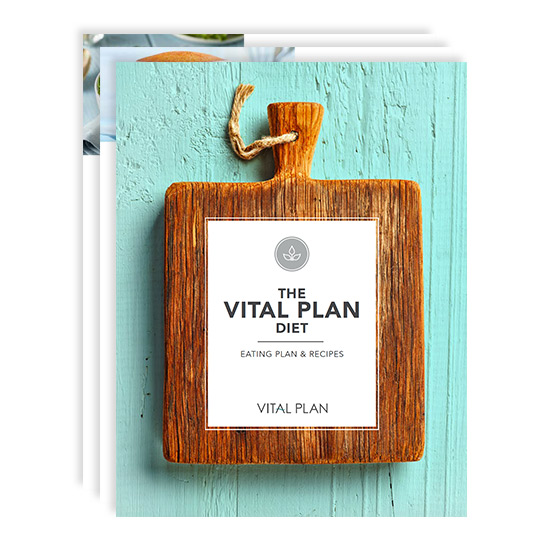 Diet Guide + Cookbook
Dr. Rawls' diet guide with delicious recipes, grocery lists, meal plans, and more to promote immune health and vitality.
Ongoing Support
Product and wellness-program support every step of the way from the dedicated Vital Plan customer service team.
Daily Immunity Kit Quality Standards
✔ Researched and formulated by Bill Rawls, MD
✔ Clinical-grade, optimally-dosed herbs
✔ Backed by science and a long history of traditional use
✔ Transparent labelling with no hidden ingredients or "proprietary blends"
✔ Independently lab tested for purity and potency
Suggested Use
Take 3 capsules of each supplement daily with food or as directed by your healthcare provider. Each bottle contains a 30-day supply when taken at the recommended serving size.
Ingredients

This product is also free from: Soy, Fish/Shellfish, BSE/TSE, Artificial Color & Flavor
50 Ingredients for Whole-Body Immune and Vitality Support
FAQ
IS THIS KIT RIGHT FOR ME?
How do I know if this product is right for me?
The Daily Immunity Kit is the Phase 2 of Vital Plan's Core Wellness System. It's ideal for people in good health seeking added immune support above and beyond the daily maintenance provided in the Daily Vitality Kit such as during stressful episodes of life, wintertime, or periods of frequent or prolonged travel.*
It's also ideal for people who are transitioning off the Restore Kit and looking to keep their immune system healthy and microbiome balanced, so they don't lose ground. The ingredients provide continued comprehensive support, but with smaller servings and a different combination of products.*
What makes this kit different from the Restore Kit?
The Restore Kit uses a different combination of formulations at twice the serving size of the Daily Immunity Kit and is paired with a more in-depth, six-month lifestyle and diet education program.
The Restore Kit includes Mitochondrial Support instead of Daily Herbal. Mitochondrial Support is important for providing advanced immune support while on the Restore Kit, as it helps support the body's natural detoxification processes, mitochondrial function, and neurological tissues, and also provides the body with antioxidant support.
The Daily Immunity Kit includes Daily Herbal, for people who are ready for daily immune support and vitality. Daily Herbal provides additional adaptogenic phytochemicals formulated to support brain health and memory, balance energy and stress, and maintain joint and immune function.
What's special about this kit? Will this actually work?
The Daily Immunity Kit is a unique collection of products designed to provide immune support and promote daily wellness. Many of the ingredients are herbal extracts that have higher concentrations of beneficial phytochemicals so you can take fewer capsules. It's also combined with diet and lifestyle tips to support immune function, making this a truly comprehensive approach.
It takes a holistic approach to immune and overall health by supporting the underlying factors that promote good health. By minimizing system disruptors and supporting the five elemental steps to good health (nourish your body, purify your environment, calm your mind, activate the your lifestyle, and balance your microbiome), the Daily Immunity Kit provides a simple and reliable path forward.
FOR BEST USE
What is the suggested use and serving size?
Take three capsules of each Daily Herbal and Daily Multi Plus with food in the morning, and three capsules each of Advanced Biotic and Adaptogen Recovery with food in the evening, or as directed by your healthcare provider. It's recommended, but not required, that you take the capsules with food, as it may be helpful for those with a sensitive stomach.
Each bottle contains a 30-day supply when taken at the recommended serving size.
Can I mix the ingredients in a smoothie or other drink?
Yes, you may open the capsules and take them in a drink or smoothie. However, we do not recommend doing so with Advanced Biotic due to the extremely bitter nature of the ingredients.
WHAT TO EXPECT
How long should I take this product?
The Daily Immunity Kit is great as an ongoing regimen since it provides comprehensive support for your organs and tissues, as well as your immune system and microbiome. And it has important bioavailable nutrients and antioxidant-supporting herbs and promotes joint and cognitive function. The formulations are safe for long-term use and can give you ongoing support and peace of mind, especially if you're coming off the Restore Kit.
If, after being on The Daily Immunity Kit™, you later feel your health and immune system are at the level you'd like, the next step on your journey could be moving down to Phase 3 support on the Daily Vitality Kit for everyday foundational support to stay healthy and active.
If you feel like you need more advanced immune support and an in-depth lifestyle and diet program, we recommend moving up to Phase 1 for our most comprehensive herbal regimen, the Restore Kit.
Do you have an autoship program?
Yes! You may want to join the Subscribe & Save autoship service to save 10% on recurring orders. Save time and never run out of supplements. You'll get an email notification before each delivery and you can cancel or change your order anytime. Simply select Subscribe & Save when you add an item to your shopping cart.
PRODUCT FACTS
Is this product vegetarian, gluten-free, and GMO-free? What else?
Yes. This product is vegetarian, gluten-free, GMO-free, and free from soy, eggs, dairy, peanuts, artificial colorings or flavors, fish, and shellfish.
How is this product different from a probiotic?
The balance of bacteria within your gut and throughout your body is as unique to you as your fingerprint. So, while probiotic supplements provide "good" gut flora, there is no guarantee they will establish the right balance for your body and in addition, they may not be enough to balance out any "bad" microbes that may be present. The ingredients in the Daily Immunity Kit do a good job of supporting your body to naturally maintain your unique whole-body microbiome balance and often negate the need for a probiotic.
SAFETY AND QUALITY
How do I know Vital Plan products are safe?
Our extensive quality-control measures are documented on this website. Each of our products comes with an independent certificate of analysis verifying the ingredient identity, purity, and standardized constituents, where applicable. This includes testing for heavy metals, organic toxins, and microbiological contaminants.
We work closely with only select manufacturing partners who follow the highest GMP (Good Manufacturing Processes) guidelines, and each batch of products is tested thoroughly during the manufacturing process. We are passionate about quality, and we would never offer anything to the public that we would not take ourselves.
What if I am taking prescription medications?
If you are taking any kind of prescription drug, do not stop taking it without first consulting your doctor. We recommend that you consult with your healthcare provider before starting the Daily Immunity Kit, especially if you are pregnant or nursing, have cancer, are on medications for bipolar disorder, are taking blood thinners, have an allergy to any ingredient listed, or have Type 1 Diabetes.
Is this product safe for pregnant or breastfeeding women?
Do not use this product while pregnant or breastfeeding except under the supervision of a qualified healthcare practitioner.
Does this product have side effects?
The potential for side effects with any of the ingredients in the Daily Immunity Kit is low, but allergic or adverse reactions can occur with any substances, even common foods. The most common side effect would likely be stomach upset, particularly if taken without food.
For some individuals, the rhodiola in the Daily Herbal, which is an energizing adaptogen, may be mildly stimulating. In this case, we recommend using a smaller serving and making sure to take the product in the morning. If you have any side effects, stop use and contact your healthcare practitioner.
---