Support the vitality of your body and mind, and maintain your active lifestyle with nootropics and adaptogens.*
Reg. Price: $54.00
S&S Price: $48.60 (save 10%)
Subscribe & Save (S&S) Autoship
Save 10% on all recurring orders
Never run out of your supplements
Get email reminders before each delivery
Modify or cancel at any time
+ FREE SHIPPING
(US orders over $100)
Support the vitality of your body and mind, and maintain your active lifestyle with nootropics and adaptogens.*
Balances energy and stress*

Promotes memory and focus*
Maintains joint and immune function*
Save 10% with SUBSCRIBE & SAVE
Subscribe & Save (S&S) Autoship
Save 10% on all recurring orders
Never run out of your supplements
Get email reminders before each delivery
Modify or cancel at any time
Balances energy and stress*

Promotes memory and focus*
Maintains joint and immune function*
Meet Herbal ProActive
Health is wealth, and it can't be over-valued. Invest in yourself — and your well-being!
Clinical studies have shown that adaptogens help promote balance in the face of stress. They help keep you on an even keel by steadying your mood and maintaining healthy energy levels.
Similar herbs called nootropics work to support the brain and memory, and they can help you stay mentally engaged in the life you love.
Both adaptogens and nootropics are included in Herbal ProActive to support immune and cognitive health, along with herbs to support joint health and deliver comprehensive whole-body support.*
Suggested Use
Take three capsules once daily with food in the morning, or as directed by your healthcare provider.

This product is also free from: Soy, Fish/Shellfish, BSE/TSE, Artificial Color & Flavor, Non-ETO/Non-Irradiated
Five On Your Side – Clinically-Studied Ingredients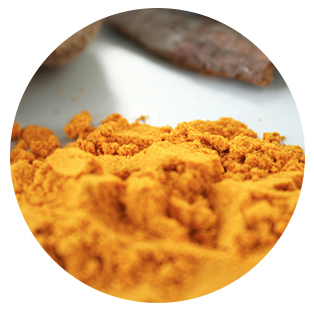 Acumin™ Turmeric Extract (Curcuma longa)
This unique turmeric extract is designed to be highly bioavailable. Many of the fat-soluble compounds in turmeric, including curcuminoids, are not easily absorbed by the body. Acumin optimizes their absorption to support joint health and comfort, cognitive function, and memory.*
Rhodiola Extract (Rhodiola rosea)
The energizing properties of this herb help promote healthy hormonal balance and mood. Rhodiola, an adaptogen, also supports athletic endurance and performance, mental clarity, cardiovascular health, and bone mass.*
Reishi Mushroom Extract (Ganoderma lucidum)
An adaptogenic mushroom, reishi promotes stamina during aerobic activity, supports immune system and liver functions, and promotes a calm state of mind. It is also neuro-supportive.*
Gotu Kola Extract (Centella asiatica)
This nootropic herb supports memory and healthy brain aging and function. Gotu kola is also an adaptogen and has a positive influence on the nervous and immune systems.*
Boswellia Extract (Boswellia serrata)
Boswellia has been celebrated for centuries for its tissue-supporting properties. This particular boswellia extract has undergone a proprietary extraction process to optimize its beneficial boswellic acids. The herb offers support for the joints to help maintain mobility and comfort.*
What's Inside Matters
At Vital Plan, we pride ourselves on using optimal amounts for each ingredient and using clear, honest labeling for each product. You'll find no hidden "proprietary blends" here: We believe you deserve to know exactly what goes into each bottle — and into your body. Each batch of capsules is quality-tested multiple times throughout the manufacturing process and sent to third-party labs for verification of ingredient purity and potency claims.
IS HERBAL PROACTIVE RIGHT FOR ME?
How do I know if Herbal ProActive is right for me?
If you are looking for a product that supports brain function, balances mood, reduces fatigue, and maintains healthy joint and immune function, Herbal ProActive offers this broad support.*
What makes Herbal ProActive different?
Herbal ProActive offers a specially formulated blend of adaptogenic phytochemicals with optimal amounts of ingredients to promote daily well-being. Our products are tested extensively and produced by manufacturing partners who follow the highest GMP (Good Manufacturing Processes) guidelines.
FOR BEST USE
What is the recommended serving plan for this product?
We recommend taking three capsules of Herbal ProActive with food in the morning for ongoing support of optimal health. If you'd like additional benefit, you may double the serving and take six capsules of the supplements daily. Note: Rhodiola, found in Herbal ProActive, is not a stimulant; however, it is an energizing adaptogen. For most people, it is best taken in the morning.
Should I take this product with food?
It's not required to take Herbal ProActive with food; however, it is recommended, as that may benefit those with a sensitive stomach.
Can I mix the ingredients in a smoothie or other drink?
Yes. Herbal ProActive can be put in a smoothie or drink.
WHAT TO EXPECT
How long should I take this product?
It is recommended that you take Herbal ProActive on a daily basis to maintain wellness. As with any new supplement, consult your healthcare provider.
PRODUCT FACTS
I'm vegetarian/vegan. Can I still use Herbal ProActive?
Yes, Herbal ProActive is free from animal ingredients and animal derivatives.
Is this product gluten-free?
Yes, Herbal ProActive is gluten-free.
Why is there a difference in the color of the Herbal ProActive capsules?
You may find a variation in color from capsule to capsule. Any time there is pressure on the blend during production, there is a possibility for color variations due to the oil content of turmeric.
SAFETY AND QUALITY
How do I know Vital Plan products are safe?
Our extensive quality-control measures are documented on this website. Each of our products comes with an independent certificate of analysis verifying the ingredient identity, purity, and standardized constituents, where applicable. This includes testing for heavy metals, organic toxins, and microbiological contaminants.
We work closely with only select manufacturing partners who follow the highest GMP (Good Manufacturing Processes) guidelines, and each batch of products is tested thoroughly during the manufacturing process. We are passionate about quality, and we would never offer anything to the public that we would not take ourselves.
What if I am taking prescription medications?
The ingredients in this product were chosen, in part, for their low potential for harm. As with any new supplement, we recommend you check with your healthcare provider before using this product if you are taking medications.
Is this product safe for pregnant and/or breastfeeding women?
Do not use this product while pregnant or breastfeeding except under the supervision of a qualified healthcare practitioner.

Does this product have side effects?
The potential for side effects and undesired effects with any of the ingredients in Herbal ProActive is low, but allergic or adverse reactions can occur with any substances, even common foods. If you have any side effects, stop use and contact your healthcare provider.
Customer Reviews
100
reviewers would recommend this product
Write a Review
Ask a Question
12/27/2019
TERRY M.
United States
I recommend this product
Keeps me energized all day.
Keeps me energized all day.
11/12/2019
teresa m.
United States
I recommend this product
Been Pleased
I have been pleased with the herbal proactive- it is part of the [other]supplements I take.
10/16/2019
Donna M.
United States
I recommend this product
energy and mood-A keeper!
Gives me some energy and lightens my mood. A keeper!
08/17/2019
Elizabeth S.
United States
think it's helping- still too early to tell
Still too early (only a couple of months) with this product. But I think it's helping my mental energy.
Great product
Really helps to balance my mood, concentrate and deal with stress. Definitely feeling better since starting it. Thank you.
---