Blend of highly-standardized natural ingredients that provide optimal microbiome and immune support.*
Reg. Price: $58.00
S&S Price: $52.20 (save 10%)
Subscribe & Save (S&S) Autoship
Save 10% on all recurring orders
Never run out of your supplements
Get email reminders before each delivery
Modify or cancel at any time
+ FREE SHIPPING
(US orders over $100)
Blend of highly-standardized natural ingredients that provide optimal microbiome and immune support.*
Balances and supports - the microbiome of the body*

Helps maintain digestive health - balances bacteria in the GI tract*

Supports immune function - helps maintain the natural healing systems of the body*
Save 10% with SUBSCRIBE & SAVE
Subscribe & Save (S&S) Autoship
Save 10% on all recurring orders
Never run out of your supplements
Get email reminders before each delivery
Modify or cancel at any time
Balances and supports - the microbiome of the body*

Helps maintain digestive health - balances bacteria in the GI tract*

Supports immune function - helps maintain the natural healing systems of the body*
Support Your Body's Microbiome
Shortly after birth, you inherit microbes from your mother and the surrounding environment. The total of all the microbes that call your body home is called the microbiome. Your health is very dependent on the health of your microbiome.
As you go through life you continue to add microbes to the microbiome and a healthy immune system is essential for maintaining balance. The herbs in Advanced Biotic support the immune system which help maintain the integrity of your microbiome.
---
"Advanced Biotic has been a saving grace for me. I had stubborn digestive issues and nothing worked until I changed my diet and started Advanced-Biotic and Prevention Plus. I would highly recommend them to anyone."
Janet K. from NC
---
Suggested Use:
Take 3 capsules up to twice daily, or as directed by your healthcare provider.

This product is also free from: Soy, Fish/Shellfish, BSE/TSE, Artificial Color & Flavor, Non-ETO/Non-Irradiated
Natural, Clinically-Studied Ingredients
AP-Bio™ Andrographis Extract
Supports the immune system and the gut microbiome. Helps bile flow and liver function to expedite removal of toxins from the body.*
Berberine
Berberine is active in the gut and supports the immune system.*
Cat's Claw Extract
Supports immune function in its job of balancing the microbiome.*
Japanese Knotweed Extract
Contains resveratrol and a wide spectrum of chemical compounds that support normal immune function.*
New-Gar® Garlic Powder
A special form of garlic that has 10,000 ppm of active allicin per 200 mg serving. This remarkable ingredient supports the immune system and helps balance the microbiome.*
Sarsaparilla
Supports natural removal of endotoxins and immune complexes. Also supports the immune system and maintaining healthy energy levels.*
What's Inside Matters
At Vital Plan, we pride ourselves on using optimal amounts for each ingredient and using clear, honest labeling for each product. You'll find no hidden "proprietary blends" here: We believe you deserve to know exactly what goes into each bottle — and into your body. Each batch of capsules is quality-tested multiple times throughout the manufacturing process and sent to third-party labs for verification of ingredient purity and potency claims.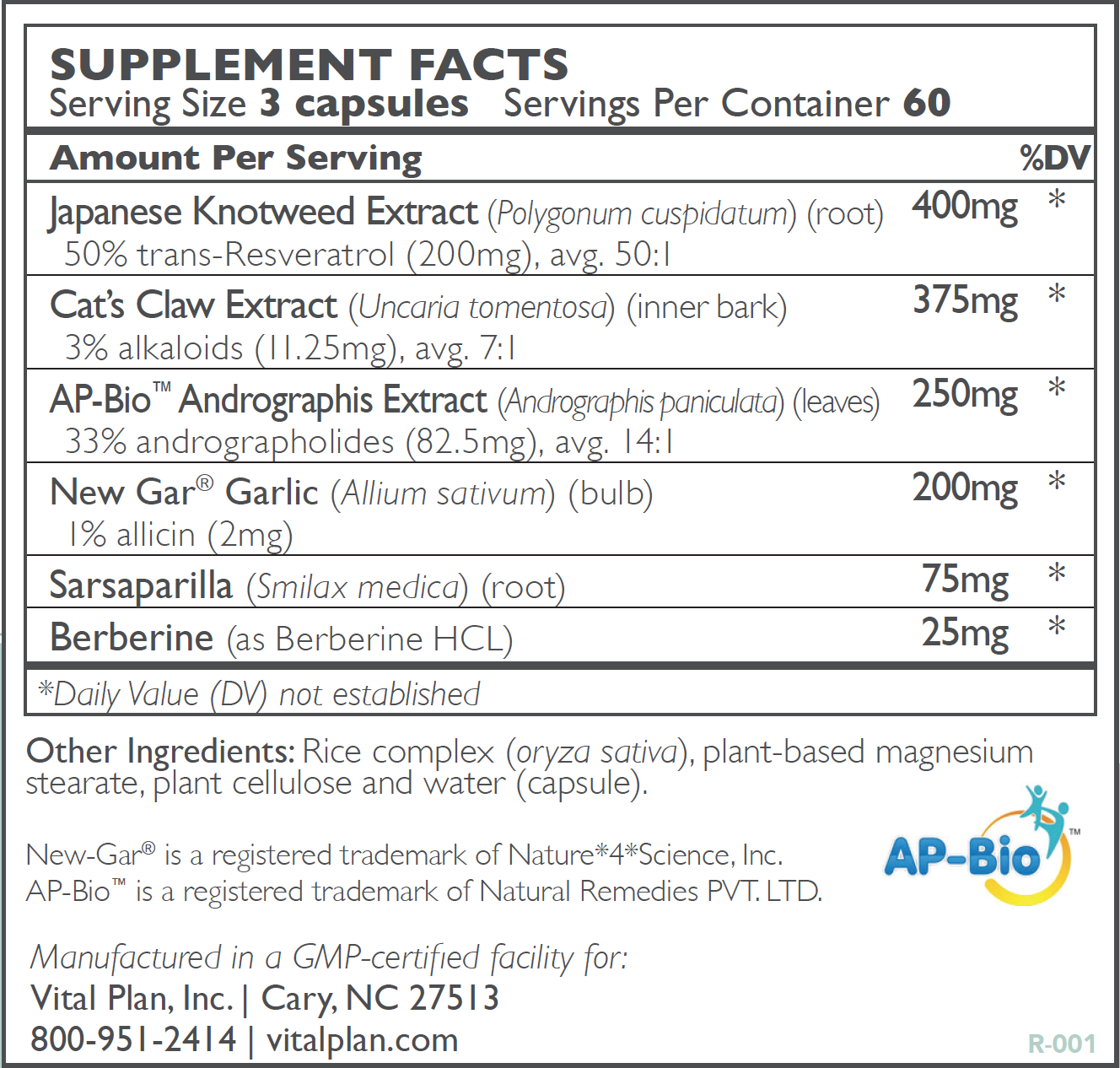 FOR BEST USE
What is the recommended serving plan for this product?
Take 3 capsules up to twice daily, or as directed by your healthcare provider.
WHAT TO EXPECT
Do you have an autoship program?
Yes! You may want to join the Subscribe & Save autoship service to save 10% on recurring orders. Save time and never run out of supplements. You'll get an email notification before each delivery and you can cancel or change your order anytime. Simply select Subscribe & Save when you add an item to your shopping cart
PRODUCT FACTS
Is this product gluten-free?
Our products are 100% gluten-free and dairy-free, and are third party tested for toxins, pesticides, and safety.
Who formulates your products?
Each and every one of our products is formulated by Vital Plan founder Dr. William Rawls. Dr. Rawls is a practicing physician and herbal expert with over 20 years of experience in the herbal and supplement industry. You can read more about Our story.
SAFETY AND QUALITY
How do I know Vital Plan products are safe?
Our extensive quality-control measures are documented on this website. Each of our products comes with an independent certificate of analysis verifying the ingredient identity, purity, and standardized constituents, where applicable. This includes testing for heavy metals, organic toxins, and microbiological contaminants.
We work closely with only select manufacturing partners who follow the highest GMP (Good Manufacturing Processes) guidelines, and each batch of products is tested thoroughly during the manufacturing process. We are passionate about quality, and we would never offer anything to the public that we would not take ourselves.
What if I am taking prescription medications?
As with any new supplement, we recommend you check with your healthcare provider before using this product if you are taking medications.
Is this product safe for pregnant and/or breastfeeding women?
Not for use while trying to become pregnant, during pregnancy, or while breastfeeding except under the supervision of a qualified healthcare practitioner.
Customer Reviews
97
reviewers would recommend this product
Write a Review
Ask a Question
01/17/2020
Dixie R.
United States
Everyone should be using
used in conjunction with Joint..4 caps AM and PM..effective in maintaining relief..also, if exposed to colds etc. increase to 6..
01/14/2020
Larisa O.
United States
01/14/2020
Ana S.
United States
Immunity Health
It has helped me in my [health journey].
01/10/2020
Melanie F.
United States
Love this product!
Love this product!
01/06/2020
Robin B.
United States
I highly recommend Advanced Biotic
I highly recommend Advanced Biotic to anyone struggling with chronic health issues. It has helped me immensely.
---