An adaptogenic herbal formulation designed to strengthen immune health and make you more resilient when stress just won't let up.*
An adaptogenic herbal formulation designed to strengthen immune health and make you more resilient when stress just won't let up.*
Optimal support for immune system function*
Supports microbiome integrity*
Promotes stable hormonal and metabolic balance*
Improves stamina and physical work capacity*
Save 10% + FREE US Shipping with SUBSCRIBE & SAVE
Subscribe & Save (S&S) Autoship
Save 10% on all recurring orders
FREE US Shipping
Never run out of your supplements
Get email reminders before each delivery
Modify or cancel at any time
Optimal support for immune system function*
Supports microbiome integrity*
Promotes stable hormonal and metabolic balance*
Improves stamina and physical work capacity*
Boost Your Immune Health & Resilience to Stress
Adaptogens are a category of herbs known for providing balance in the face of stress. The select choice of adaptogenic herbs in Adaptogen Recovery will help you go through life knowing that the immune and hormone systems of your body are balanced and ready to take on periodic strenuous activities, long work hours, or any stresses that life might throw at you.
These herbs also support balance and harmony in your microbiome, the thousands of species of different microbes that call your body home. Your health depends heavily on the health of your microbiome.
---
"It has been an amazing immune booster for my health! I feel a difference when not taking this regularly."
BETHANY P.
---
How Adaptogen Recovery Works
The particular adaptogenic herbs in this blend are very important for soothing and focusing your immune system so it can function optimally and perform necessary maintenance and repairs. Optimal immune function is essential for maintaining a balanced microbiome that supports your overall health.
Optimizing immune function is also important to make sure that the body doesn't overreact in certain situations; thus, some people find these herbs help support a healthier response to seasonal allergies when taken regularly.
All adaptogens have anti-stress qualities that help provide stabilizing effects on the neuroendocrine system, especially the hypothalamic-pituitary-adrenal axis (HPA axis) and Sympathoadrenal System (SAS). Because of this, the herbs found in Adaptogen Recovery balance hormone systems of your body, which is important for health in both men and women. Most importantly, this includes the adrenal system, which manages stress hormones like cortisol and is essential for dealing with any sort of stress.
---
"Just wanted to let you know how much I've been enjoying this adaptogen formula. I've been feeling some very positive results since starting it about 3 weeks ago."
BRIAN S.
---
Suggested Use:
For ongoing support, take 3 capsules of the formulation once a day, ideally with food and plenty of liquid.
For more acute support, increase servings to 3 capsules of the formulation twice daily, ideally with food and plenty of liquid, for as long as needed.
Consult your healthcare provider before using this product if you have a medical condition, are pregnant or nursing, or are taking medications.
---
"My family doctor asked me what I was taking so I referred him to Dr. Rawls' website. He now refers them to many of his patients!!"
GINA D.
---
Ingredients
Inside Adaptogen Recovery
Each ingredient in Adaptogen Recovery brings an impressive spectrum of benefits to the table. Combined, they provide comprehensive coverage with clinical-grade herbs at serving sizes based as closely as possible on research and traditional use to ensure maximum efficacy for immune and stress support. These are herbs that Dr. Rawls has personally used and trusted for decades.

This product is also free from: Soy, Fish/Shellfish, BSE/TSE, Artificial Color & Flavor, Non-ETO/Non-Irradiated
Natural, Clinically-Proven Ingredients
Chinese Skullcap Extract (Scutellaria baicalensis)
Chinese skullcap has a long history of use in China for supporting respiratory health, helping promote microbiome balance, encouraging a healthy response to inflammation, and optimizing immune function. In addition, Chinese skullcap is a potent synergist for enhancing the benefits of other herbs in this formula.*
Cordyceps Extract (Cordyceps sinensis)
Cordyceps is a nourishing adaptogenic mushroom that promotes stress resistance, supports immune and adrenal function, and improves aerobic activity.*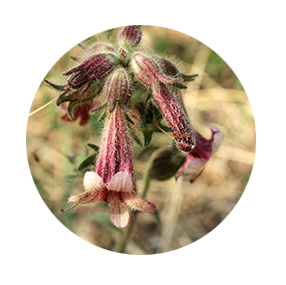 Rehmannia Extract (Rehmannia glutinosa)
A primary herb in traditional Chinese medicine, the root of this plant is considered an adrenal tonic which supports adrenal function and a relaxed state of mind.*
Reishi Mushroom Extract (Ganoderma lucidum)
Known as the "Mushroom of Immortality," this adaptogen is one of the best researched medicinal mushrooms in the world. It boosts stress resistance, supports cardiovascular, liver, and kidney health, and has profound immune-enhancing effects.*
Adaptogen Recovery Quality Standards
✔ Researched and formulated by Bill Rawls, MD
✔ Clinical-grade, optimally-dosed herbs
✔ Backed by science and a long history of traditional use
✔ Transparent labelling with no hidden ingredients or "proprietary blends"
✔ Independently lab tested for purity and potency
What's Inside Matters
At Vital Plan, we pride ourselves on using clear, honest labeling. Adaptogen Recovery is quality-tested multiple times throughout the manufacturing process, then sent to third-party labs for verification of ingredient purity and label claims.
The serving sizes for each herb in this product match the corresponding research and traditional use as closely as possible to ensure maximum efficacy. In addition, the amounts of each herb are clearly indicated for you and your healthcare practitioner, so you know exactly what you are putting into your body.
---
"There is no doubt in my mind that this product is of the finest quality. I have found that it greatly improves quality of life both mentally and physically. Excellent product!"
WANDA J.
---
FAQ
FOR BEST USE
What is the recommended serving plan for this product?
For ongoing support, take 3 capsules of each formulation once a day, ideally with food and plenty of liquid.
For acute support increase servings to 3 capsules of each formulation twice daily, ideally with food and plenty of liquid.
Consult your healthcare provider before using this product if you have a medical condition, are pregnant or nursing, or are taking medications.
When should I take Adaptogen Recovery?
For ongoing immune and stress support, simply take 3 capsules once a day. Ideally, take with food and a glass of water, in the morning.
For acute immune and stress support, increase the serving size to 6 capsules per day. You can take 3 with breakfast, and 3 with dinner. Or, take 2 with breakfast, lunch, and dinner for more sustained immune and stress support throughout the day. Adaptogen Recovery is great to take in times of increased stress such as challenging phases at work or in your personal life, when travelling, or in preparation for allergy season.
Should I take this product with food and liquids?
It's ideal to take this product with food and water to increase absorption of the ingredients. However, it's not critical, and the majority of benefits will still be gained if taken without food or water.
WHAT TO EXPECT
When does this formulation usually start to work?
The herbs in Adaptogen Recovery get to work immediately. To maximize cumulative benefits for ongoing support, we recommend taking this product for at least 2-4 weeks, however, it may be taken longer if needed.
For acute immune support, take double the serving for 2-3 days, or longer as needed.
Do you have an autoship program?
Yes! When you join the Subscribe & Save autoship service, you'll save 10% on recurring orders, save time, and never run out of supplements. We'll send you an email notification before each delivery, and you can cancel or change your order anytime.
You can also choose to have shipments delivered every one, two, or three months, as best suits your needs. Simply select the Subscribe & Save option when you add an item to your shopping cart.
PRODUCT FACTS
Is this product gluten-free?
Our products are 100% gluten-free.
Does this product contain caffeine or other stimulants?
This product does not contain caffeine or any other stimulants. Stimulants work by temporarily increasing energy or alertness, and they often have unwanted side effects.
By contrast, Adaptogen Recovery promotes sustainable energy and improved physical and mental function by supporting the body and mind against the underlying stressors that deplete energy and health.
Is this product for women and men?
Yes, this formula is designed to benefit both women and men.
Why are there 3 capsules? Can I just take 1 capsule?
Dr. Rawls and the formulation team at Vital Plan suggest taking the full 3-capsule serving in order to get optimal benefits from these herbs. The serving sizes of each ingredient are based as closely as possible on the amounts shown to be effective in clinical use, research studies, and/or traditional use.
Some other products on the market may contain the same ingredients in this formulation, but at levels much too low to provide significant benefit. In some cases, other brands may have proprietary blends that prevent you from seeing how much of a certain ingredient you are receiving.
Who formulates your products?
Each and every one of our products is formulated by Vital Plan co-founder and Medical Director, Dr. Bill Rawls. Dr. Rawls is a medical doctor with more than 30 years of clinical practice, and an herbal expert with more than 20 years of experience in the herbal and supplement industry. You can read more about him in
our story.
SAFETY AND QUALITY
How do I know Vital Plan products are safe?
Our extensive quality-control measures are documented on this website. Each of our products comes with an independent certificate of analysis verifying the ingredient identity, purity, and standardized constituents, where applicable. This includes testing for heavy metals, organic toxins, and microbiological contaminants.
We work closely with only select manufacturing partners who follow the highest GMP (Good Manufacturing Processes) guidelines, and each batch of products is tested thoroughly during the manufacturing process. We are passionate about quality, and we would never offer anything to the public that we would not take ourselves.
What if I am taking prescription medications or have a medical condition?
As with any new supplement, we recommend you check with your healthcare provider before using this product if you are taking medications.
Is this product safe for pregnant and breastfeeding women, or for couples trying to become pregnant?
Consult with your doctor before using this product if you are breastfeeding or pregnant.
---